The Coin World+ Mobile App Does It All
Portfolio Management
Your collection is valuable. So is your time. That's why we made it easy to fill in your portfolio with a simple scan.
Wantlist When you Need It
Whether you find the coin for sale online, or come across it at a dealer or tradeshow. Easily add the coin to your Wantlist for when you're ready.
Sell Quickly and with Ease
Ready to capitalize on your investment? We make it easy to list your coin for sale for interested parties. And we'll notify them for you, too.
Get the Mobile App
The app is here. Download for your mobile phone today.
Coin World+ for Apple iOS
Get it on the App Store
Compatible with all iPhones model 7 or newer running iOS 11 or above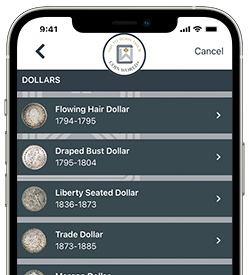 Coin World+ for Android
Get it on the Google Play Store
Compatible with all Android devices running Ice Cream Sandwich
---
NFC Technology is Here
Our app uses the NFC technology in your smartphone to interact with encrypted NFC tags on your Coin World+ tagged coins.
This is the same technology that powers services like Apple Pay® and Google Pay®. If your phone is capable of using those apps, you're capable of doing everything Coin World+ was made to do.
No NFC? No Problem.
We designed Coin World+ with all smartphones in mind -- even those that do not have NFC technology.
The Coin World+ app turns any smart phone camera into a bar code scanner. Use it to scan the bar codes present on all graded coins, from supported graders*.
* Supported graders currently include PCGS® and NGC® with more to be announced shortly.